Nowadays people need to capture a lot more than just a single screen. Since people spenda lot of time surfing websites and using software. they would want to do things like capturing scrolling web pages and document windows or recording screen videos snagit makes all such tasks a breeze. Techsmith claims its tools can actually improve efficiency with its 'Fluid Workflow' design Two features stand out in snagit. For one, It's simple to use thanks to its MS office
2007-esque interface. The other nice feature is the seamless intergration with your email client and desktop application
Features:
The home screen shows all the capture profiles. These let you capture the full screen, the active window, a section of the screen or a scrolling window. There are other useful profiles such as a capturing a web page with active links, capturing only text, capturing menus or an object on screen. Once a screen i captured, The snagit editor pops up and offer option to annotate the image in various ways, and we discuss these later in this review.
Snagit intergrates seamlessly with your default email client, Microsoft office applications , FTP. clipboard, web browser and any other program that you predefine, After capturing an image click the 'send' button and specify which program the output is to be sent to.
Captured images can be saved to a variety of image formats ( png, gif, jpeg, tif ) . we liked the inclusion of adobe PDF and Flash formats.
Then there are other features like image tagging and the visual search pane, which we will soon discuss
Performance:
We found that snagit keeps a record of all capture profiles used in the past, so that one can reuse the customized profiles. This useful feature is called 'Manage profiles'. It's also possible to import and export capture profiles, In case you use snagit on multiple computers.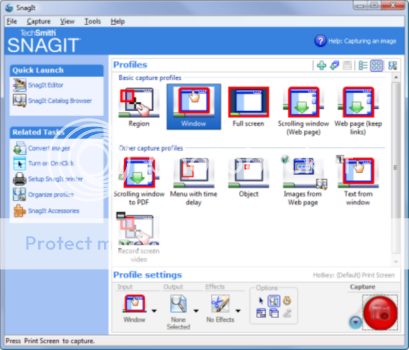 The scrolling window capture with its default scroll speed was a bit slow. it took us almost 45 seconds to captur a two page word document. However, capturing a cached home page was instantaneous.
We explored the snagit Editor and found that it includes advanced editing features such as color depth, color correction, and color substitution in the 'Effects' section. It might take a while for someone with no background in design to understand these advanced features. Images can be annotated with text boxes or arrow symbols to draw attention to a specific part, There are attributes and more , for the arrows and shapes that you overlay on the image, You can also add effects such as shadows, perspective and shear.
As we went about capturing images we noticed that these were automatically saved in a library, Even when we cloed the application. without saving the captured images, we were able to access these through the Visual search pane in the Snagit Editor, This is really what the Auto-store feature is all about. Use the Visual search pane within the Snagit Editor to find images, from the library or to access folders on the hard disk, Images can be organized by tags, Tags that be attached to images have names like 'Funny', ' Personal ', ' Financial ', ' Follow-up ', and so on. This enables you to organize images in groups to quickly find these Later.

The World's fastest Browser Safari Launched thier safari 4 beta browser announced at World Wide Developers Conference (WWDC) with significant number of bug fixes. safari 4 beta browser is way ahead of all close competitors in the JavaScript test. It is based on the Webkit engine, Very similar to Google Chrome, It gives safari 4 beta browser the edge over all other competitors like IE 8 and Firefox 3. Despite the most recent features available in other browsers like Firefox 3.5 beta and Google Chrome 3 alpha which has several performance improvements and is not applied in safari 4 beta browser.
Important features of safari 4 beta browser covers Super fast browsing, panoramic home screen with previews of favorite sites, and even Cover Flow in history along with a huge memory footprint. More detail features are available here.
Download Safari 4 for Windows and Mac
Latest Articles
Restoring disappeared bookmarks | Restoring bookmarks
Botnets now used to fake ad clicks
Snagit 7 | Snagit download | free snagit | Snagit free download | Snagit freeware |

Great for some reasons, the browser refuses to show your bookmarks collected over a long period of time, Apart from the format of the actual bookmarks in the new database file 'Places.sqlite' , The format of the backup file has also changed to the type '.json' with version 3, JSON stands for 'JavaScript Object Notation' and signifies an independent data exchange format as a further development of XML, It supports the completely revised bookmarks management system and records not only addresses, But also additional data for sorting and managing them, The individual daily backup files in the new format are the in the sub-folder 'Bookmarkbackups' in the respective FireFox profile
">
While restoring the bookmarks some things must be considered, The database file 'Plaes.sqlite' cannot be simply exchanged and transferred to another computer, for instance, From a JSON file, you can only completely reset the status to this backup date, Any possible changes are lost, To reconstruct them, Click 'Bookmarks | Organize Bookmarks' and then click 'Import and Backup' and select 'Restore | Select file...' Then navigate to the profile folder of FireFox and further in the sub-folder 'Bookmarkbackups' Then select the desired JSON file and click 'Open' Confirm the security query 'Restore Bookmarks' by clicking 'OK'.
Related Articles
Saving bookmarks in the form of html files